The Cassini-Huygens spacecraft, launched on 15 Oct 1997, entered the Saturn system on 01 July 2004. The Cassini orbiter will orbit Saturn 294 times. On 15 Sep 2017, after almost 20 years in space and more than 13 years at Saturn, it will enter the atmosphere of the planet and the mission will end. The atmospheric entry probe Huygens landed on Saturn's large moon Titan on 14 Jan 2005. On 22 Apr 2017, the final phase of the mission, the Cassini Grand Finale, has started. For the first time, the spacecraft dives through the small gap in between the planet and the rings.

My participation on the mission began in 1997 as a Cassini Imaging team associate. My major responsibility was the camera observation planning for the icy moons. In 2013, I was selected as a Partici­pating Scientist through NASA's "Cassini Data Analysis and Participating Scientists" program (CDAPS) with my proposal "Cassini Imaging of the Irregular Moons of Saturn".

Die Raumsonde Cassini-Huygens wurde am 15 Okt 1997 gestartet und erreichte das Saturnsystem am 01 Juli 2004. Der Cassini-Orbiter wird Saturn 294 Mal umkreist haben, wenn er am 15 Sep 2017 nach fast 20 Jahren im Weltraum und über 13 Jahren am Saturn in dessen Atmosphäre verglüht. Die Atmosphären-Eintauchsonde Huygens erkundete am 14 Jan 2005 die Atmosphäre und Oberfläche des großen Saturnmonds Titan. Am 22 Apr 2017 hat die letzte Phase der Mission begonnen. Sie wird als Cassini Grand Finale bezeichnet; und zum ersten Mal tauchte die Raumsonde durch die schmale Lücke zwischen dem Planeten und den Ringen hindurch.

Meine Mitarbeit an der Cassini-Mission begann im Jahr 1997 als "Cassini Imaging team associate". Dabei war ich unter anderem für die Kamera-Beobachtungsplanung der Eismonde zuständig. Im Jahr 2013 wurde ich als "Partici­pating Scientist" ausgewählt. Dafür beworben hatte ich mich im Rahmen des "NASA Cassini Data Analysis and Participating Scientists" Programms (CDAPS) mit meinem Proposal "Cassini Imaging of the Irregular Moons of Saturn". Im Rahmen meiner Arbeit halte ich auch Vorträge über Cassini.
---
Cassini Mission Weblinks

Mission homepage at NASA's Jet Propulsion Laboratory (JPL)

Cassini Grand Finale Toolkit from NASA/JPL — the final months of the mission from the horse's mouth

Cassini-Seite der Fachrichtung Planetologie an der Freien Universität Berlin

Cassini-Seiten von Bernd Leitenberger (private Webseite; sehr ausführliche Missionsbeschreibung bis Juli 2006/ Orbit 26)

 Cassini-Texte (von mir verfasst) für die interessierte Öffentlichkeit → Readings/Lesestoff-Seite
---
Cassini Grand-Finale Videos

♦ Teaser video (<4 min long) of NASA/JPL, announcing the Cassini Grand Finale.
◊ Cooles Video (<4 min lang) von NASA/JPL, welches das Cassini Grand Finale ankündigt. 

♦ As a service for highly interested freaks, the Grand Finale press conference can be watched in this 1-hour long video.
◊ Total interessierten Lesern sei dieses 1 Stunde dauernde Video der Pressekonferenz von NASA/JPL empfohlen, in dem das Cassini Grand Finale im Detail vorgestellt wird.
---
First Dive Between Planet and Rings — AceLog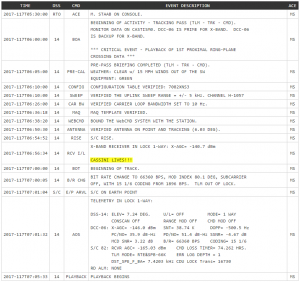 AceLog: This screenshot of the log file from mission control documents relief and happiness while establishing communication with the Cassini spacecraft after the first Grand Finale dive between Saturn and the rings on 27 Apr 2017.
---
Cassini Mission Clock
♦ This clock shows how long Cassini is already orbiting Saturn.
◊ Diese Uhr (ein Fund im Internet) zeigt an, wie lange Cassini bereits den Saturn umkreist.
---
© Tilmann Denk (2017)